Free for all, Ai Weiwei, finally the tax man comes down on you and about tweet of Jack Dorsey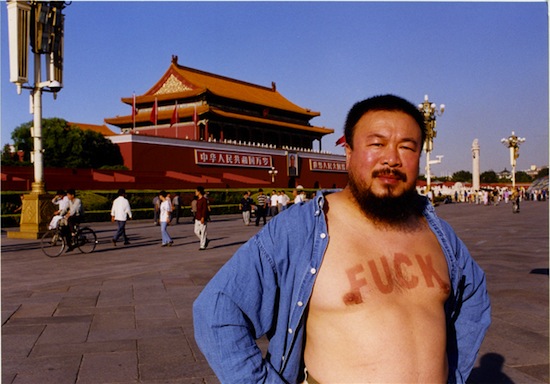 Here a collection of comments and statements in this case.
Austrian Foreign Minister Michael Spindelegger also expressed concern was in contact with the Chinese authorities to get him freed, Vienna said. Spindelegger had met with Ai in his studio on his last visit in Beijing.
Foreign Ministry spokesman Hong Lei told a regular news conference that police were investigating Ai for unspecified economic crimes. "It has nothing to do with human rights or freedom of expression," Hong said.
"The public security authorities are conducting an investigation according to law. China is a country under the rule of law and relevant authorities will work according to law," he said, giving no other details.
China needed to enhance "national rhetorical competence", says a other Chinese official.
"But I think the signal it sends is that if he can be arbitrarily harassed in this way, no one is safe."
On his first China stop in Beijing, Dylan plowed through his set, spoke to the audience only briefly and skipped his best-known protest songs (The answer is blowing in the wind, The times they are a-changin).
The protest singer/songwriter agreed not to sing peace anthems like The Times They Are A-Changin' - so as not to offend the nation's Communist regime.
Proposed Dylan concerts in China were halted last year (10) because Culture Ministry officials refused to approve the shows.
They only relented this year (11) under the agreement that they would be able to select songs the folk icon would not sing.
It's not the first time international superstars have been ordered to doctor their sets to avoid upsetting Chinese sensibilities - the Rolling Stones had to promise not to play Let's Spend the Night Together, among other songs, during their 2006 dates in China - because cultural censors felt the lyrics were too risque.
The concert was attended by some 18,000 guests, with 2,000 seats reserved by the Chinese Communist party.
Chinese activist Zhao Lianhai has been calling for the release of Ai Weiwei, but government officials told him to "be quiet or go back to jail," where he previously served time for his campaign against a 2008 melamine milk poisoning that left his son ill.
http://www.zimbio.com/Ai+Weiwei
Ai Weiwei [...] has been close to the red line of Chinese law. As long as Ai Weiwei continuously marches forward, he will inevitably touch the red line one day," the newspaper wrote. "Ai Weiwei will be judged by history, but he will pay a price for his special choice," it added.
The newspaper also hinted that Mr Ai had infringed the law by attempting to fly from Hong Kong to Taiwan without completing his "departure procedures". Chinese citizens require a special permit to visit the island.
Articles in the "Global Times, " a communist party newspaper, seem to confirm Ai Weiwei's arrest. He's refered to as "a maverick" that "the law will not concede to."
The English version reads, "The West's behavior aims at disrupting the attention of Chinese society and attempts to modify the value system of the Chinese people."
But the Chinese-language version is much harsher. It says, "This is the root cause for Chinese people's loathing towards the West on this issue, when the West pressures China on the so-called 'human rights problems.'"
"Xinhua News Agency: Ai Weiwei Under Investigation for Economic Crimes"
April 7, 2011
According to Xinhua News Agency reports — Xinhua News Agency reported in the early hours of the morning today, citing Public Security Bureau information, that Ai Weiwei was under investigation in accordance with the law for suspected involvement in economic crimes.
China's Official Media Accuse the West of Interference
According to the China News Agency (中通社), the Global Times, [a paper] under the banner of China's official People's Daily newspaper, has run a lead editorial today under the headline, "The Law Will Not be Twisted for Mavericks" (法律不会为特立独行者弯曲), which answers the international community's calls for the release of Ai Weiwei, who has been called "China's avant-garde artist." The Reuters news agency reports that the editorial accuses Western governments for their calls on China to release avant-garde artist Ai Weiwei, saying Ai Weiwei has long tested the limits of Chinese laws, and must pay the price for this . . .
According to the Global Times editorial, Western governments have used the Ai Weiwei incident, attacking China's human rights record, even though they are not clear about even the slightest details in the case, and have no idea which laws Ai Weiwei has violated. [The editorial also] points out that for Western critics to "use heated editorials to attack China is a blind charge against China's basic political framework, and a trampling of China's judicial sovereignty."
Detained artist-activist Ai Weiwei was offered membership of a top advisory body at least twice before he was taken into custody, according to his studio staff.
His studio staff said police visited him on March 31 - three days before his detention - and the artist told his aides afterwards that he had been offered membership of the Chinese People's Political Consultative Conference. The political body is a platform for the Communist Party to engage influential figures outside the party.
About a week before that visit, Ai had also mentioned receiving the offer. "[But] he didn't say if it was a membership of the CPPCC at the municipal or national level, how he responded or whether he accepted it or not," one staff member said.
The government continues to turn down questions on Ai's whereabouts. A spokesman for the Foreign Ministry referred to the artist as a "suspected criminal" yesterday.
"Public security officials are conducting investigations on the Ai Weiwei issue. I have no new information to share," ministry spokesman Hong Lei said. "The Chinese also feel confused: why is that some people in some countries consider a Chinese suspected criminal a hero? The Chinese are unhappy about this."
Yue Luping , art professor with the Academy of Fine Arts of Xian in Shaanxi province, denied a Xinhua article in which Ai was accused of stealing Yue's creative idea. Yue said his comments to state media had been misused. "I have never said it was plagiarism. I only said it was `similar' or `a clash'."
For the work in question, Fairytale, Ai flew 1,001 ordinary Chinese to the German city of Kassel as "living exhibits" in an art show in 2007.
Yue said he felt he was being used. "I felt like I was playing a role in their play. I didn't want to be a part of it. Xinhua didn't contact me to verify my remark and I felt I had to clarify. It was reckless to publish it without checking with me, which I think has harmed Xinhua's credibility."
Yue added: "I am concerned about Ai. There has been no news of his whereabouts for nine days. The investigation is not transparent or open enough."
Also yesterday, Ai's wife was interrogated about his studio's tax status.
Lu Qing said she was summoned by Beijing Chaoyang district's tax bureau for questioning that centred on the studio's business.
The session lasted more than an hour. "I guess they were looking for evidence," Lu said.
Ai's elder sister Gao Ge said his driver Zhang Jinsong , studio shareholder Liu Zhenggang and their accountant had all been missing for several days.
Gao said it was impossible her brother would co-operate. "If I were him, I wouldn't," she said. "They can arrest all our family."
In Hong Kong, Cheng Yiu-tong, local deputy to the National People's Congress, urged mainland officials to give an open explanation. The relevant department should say what offence Ai was involved in, and whether the case was civil or criminal, he said. Copyright (c) 2011. South China Morning Post Publishers Ltd. All rights reserved.