No Room in Prison? Ship Em Off'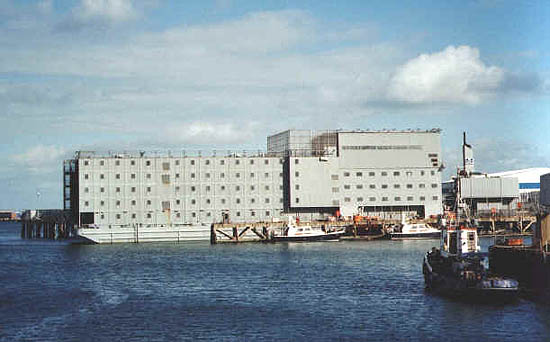 Her Majesty's Prison Weare, a prison ship which has been moored off the coast of Dorset since 1997 and houses 400 prisoners. HMP Weare was originally constructed as a barracks for troops in the 1980s and was used as a prison in New York until it was moved to Portland Harbour in 1997.
And in Australia:
outrage over prison ship plan for illegal immigrants. Civil libertarians, the Labour opposition and the Australian Greens party all condemned the prison ship plan, drawing comparisons with British convicts sent from overflowing prison hulks to Australia."A couple of centuries ago people were condemned to hulks for stealing bread," said Pauline Spencer, from Victoria state's Federation of Community Legal Centres. "Now we're looking at people being condemned to these hulks for stealing fish.
And in United Kingdom:
Even on very cautious assumptions, for every £1 spent on prison, we would save at least £1.07 and it could be over £12. the annual cost of keeping a criminal in jail is $25,000 and the total social and economic cost to society (including policing, insurance, injuries, replacing stolen property, and household expenditure on security measures) of allowing the median offender to remain at large is $70,098. The resulting cost-benefit ratio is 25,000:70,098 or 2.80. On these assumptions it is worth jailing about 75% of criminals, but would be a waste of money to imprison low-rate offenders, who impose a cost on their fellow citizens of less than $25,000. The total cost of 80,000 places at £105,000 each would be £8.4 billion. The total annual cost of crime has been estimated by the Home Office to be £60 billion.
At current rates, jails in England and Wales will run out of room for criminals within a fortnight. The capacity is 79,600 and there are already more than 79,000 cons inside. Some estimates say that the total prison capacity needs to be raised to 100,000.