Safe action Pistol- semi automatic from Austria used by Jared Lee Loughner for Sarah Palin's targed list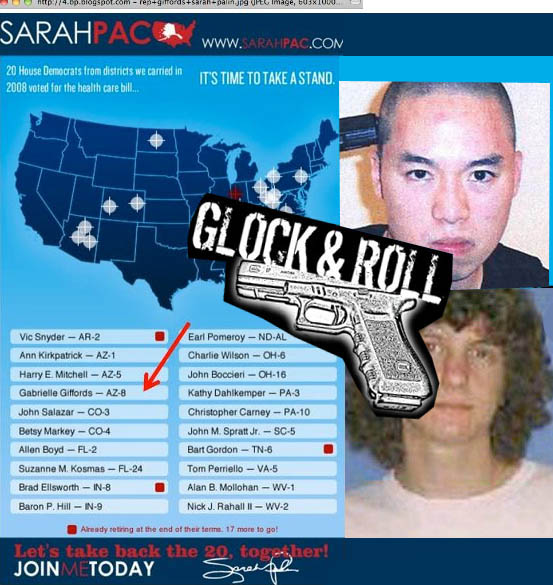 Jared Lee Loughner's You tube psycho, "No! I won't pay debt with a currency that's not backed by gold and silver! No! I won't trust in God!". Jared Lee Loughner killing six people and wounding 12 others, including U.S. Rep. Gabrielle Giffords, at an Arizona supermarket used a 9mm semi automatic Glock, www.glock.com, "Safe action Pistols".
"It's one of the greatest guns made in the history of the world".
Arizona gun dealers say that among the biggest sellers in the past few days is the Glock 19 made by privately held Mr. Gaston Glock, Glock GmbH, based in Deutsch-Wagram, Headquarter is located North of Vienna, Austria, the model used in the shootings.
The Glock with the high-capacity magazine alloweds Loughner to fire 33 rounds without reloading. The Glock 9 mm is famoes by mass killers, it was allso in action with the Virginia Tech killer, Seung-Hui Cho, in a spree that left 32 people dead. Worst killer collection.
Handgun sales rose 65 percent to 395 in Ohio; 16 percent to 672 in California; 38 percent to 348 in Illinois; and 33 percent to 206 in New York, the FBI data show. Sales increased nationally about 5 percent, to 7,906 guns. In Austria we say it sells "like warm cakes".
Sarah Palin published a targed list on www.sarahpac.com, meanwhile the list is removed and Sarah expressos here condolences to victims and to No.4 on the list. "I am so sorry", was she condemning the execution or is she just expressoing here prayers to the families of the victims?
Sarah Palin: "America's Enduring Strength" from Sarah Palin on Vimeo.
The term blood libel is generally used to mean the false accusation that Jews murder Christian children to use their blood in religious rituals, in particular the baking of matzos for passover.