US president talks the church of fear out of fashion.

A comment today from a US friend in Beijing about Obamas speech, no fear, no danger and threat and the whole chapter of homeland security.
See the other site of Amerika: Ku Klux Klan
The first incarnation of the Ku Klux Klan was founded by a group of Confederate generals at the end of the Civil War to promote a white supremacist agenda. The Klan was driven underground, but re-formed after World War I. Klan activity increased during the civil rights movement of the 1960s, and has surged again since 2006 as a result of opposition to gay marriage and immigration. There is no single, centralized Ku Klux Klan. The Southern Poverty Law Center says the Imperial Klans of America is the second largest KKK group after the Brotherhood of Klans Knights, based in Marion, Ohio.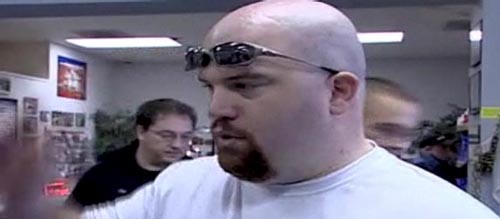 The gun sales went up after Obama was elected, picture of an customer and a statement of a shop owner: "I have been in business for 12 years, and I was here for Y2K, September 11, Katrina," Conatser said, as a steady stream of customers browsed what remained of his stock. "And all of those were big events, and we did notice a spike in business, but nothing on the order of what we are seeing right now."
According to FBI figures for the week of November 3 to 9, the bureau received more than 374,000 requests for background checks on gun purchasers -- a nearly 49 percent increase over the same period in 2007. Conatser said his store, Virginia Arms Company, has run out of some models -- such as the AR-15 rifle, the civilian version of the military's M-16 -- and is running low on others.