Bruce Sterling Rant @ Space "ARPHID NOT RFID"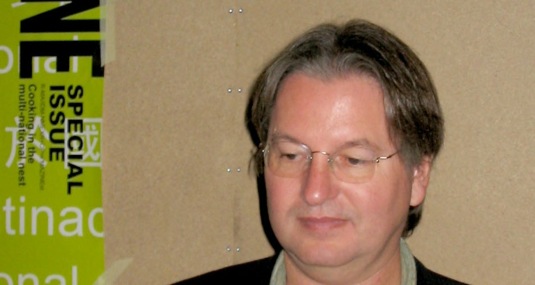 Bruce Sterling is possibly one person that you don't mind listening to rant. Why? Because his futurist writings are often extraordinarily accurate, a skill which he attributes to being able project the past into the future. As he later points out himself "I hate to say your guess is as good as mine, because…well…my guess is pretty fuckin good!" A fact the audience appear to be well aware of.
I don't know much about Sterling, and this is my first meeting with him but looking at his catalogue of work so far you realise how influential his writing has been. one of the founders of cyberpunk; and most recently in Shaping Things (2005) Sterling expands more generally on ideas about history, technology, art theory, politics and global cultural trends.
But tonight's (tues) rant has particular focus. The future of the emergent trend of RFID (or ARPHID, a term which he pleads anyone working within the creative arena to use instead, in helping practitioners locate other artists work more easily).
The audience, a mixture of academics, artists and tech geeks (mainly of the American variety). Never have I seen so many geeks in one room. How can I tell? You just can. Maybe its all the "wows" which reverberate round the room when Bruce shows us an ARPHID chip recently made by Hitachi the size of a pin-head.
At a number of points throughout the lecture Sterling uses London's own little piece of ARPHID ubiquitous computing: the Oyster card by way of a reference point - the epitome of pervasive computing today.
Bruce shows us some example of ARPHID art where ARPHID tags are mounted on Pigeons (Project Urban Eyes) in an ARPHID performance.
In another technology-tracked political performance concerning privacy, Nancy Nisbit, a Canadian anti-NAFTA (North American Free Trade Agreement) activist who is concerned about cross border trade flows and therefore has tagged everything she owns with ARPHID and is then selling it in a border-crossing critique of NAFTA, and experiment in identity through possessions.
Bruce also mentions the work of Regine, "The queen of electronic art scene" in we-make-money-not-art.
Also familiar to anyone involved with digital arts is Rhizome.org which is one of the oldest electronic arts archives and essential for anyone aspiring to be a "player in the electro-art scene".
PREDICTIONS
Bruce predicts there will be 3 main phases of ARPHID art practice, and a window of opportunity lasting about 7 years before ARPHID fades into obscurity.
-The first phase he says will be the magic stage/the Mellies stage involving 'Jarking' - putting the chips into objects without people knowing to come up with sometimes freaky/magic-like interactions.
-The Second phase will be a detournement (like Nancy Nisbit work) marked by an increased awareness of ARPHID by trying to make some Bohemian kick-back, trying to build scandals out of it exploiting the sinister aspects of the technology.
-During the third phase, ARPHID will have reached a degree of maturity.
Bruce also predicts that there will be a sex scandal involving Oyster Cards in the next 18 months. Predict the present old sci-fi writers tricks, possibly some similar dirty tricks activity along these lines. Jealous (politician) husband/wife plants on partner, hacks card establish airing spouse is somewhere not meant to be etc
People leading this technology are techy/spooks and artist who are very good at exploiting this very "dry" situation with middleware. It is after all the sex element, which makes surveillance work - people like to spy on sex and power.
When asked how long it will be before Dixons sell ARPHID readers (which currently cost £5000), Sterling says by 2025 it will be unthinkable to go shopping without your ARPHID wand. The space will be taken over by todays design magazines, in which adverts will compete for space to sell you something based on your profile.
Longer term implications:
Nobody knows but we have some good guesses and there are some emergent Schools of thought what we're really seeing is a convergence of many different things:
identity thing, searchable thing, trackable thing, and time (where its been, where its going), and recyclability - one of the things which Sterling is most interested in which he feels may provide a solution to some of our environmental problems.
Criticisms of Bruce's lecture:
There were occasions when Bruce left gaps in his explanations, assuming that everyone was had geeky knowledge - which for the majority of the audience was ok, but for me could have been a bit more explicit.
Some people/books/URL's Bruce mentions:
Simpson Garkfinkel – RFID : Applications, Security, and Privacy (2005)
Peter Morville - Ambient Findability
Adam Greenfield – Everyware
www.bookcrossing.com
Bruce's blog Beyond the Beyond
Other Locatice media Projects:
Arphield RecordingsArphield Recordings is a new project documenting impromptu arphid sound performances produced by people scanning their oysters cards in the daily routine of access control to the london tube stations.
mobile strategies of display & mediation a research-practice dedicated to mobile strategies of display and mediation.