JJ1 alias Bruno killed on Monday 26. June 2006 in Germany
About Bruno, who crossed the border, or how sickness and insanity accompanies the decision process of politicians. With kinde regards to the UK Homeoffice (The Home Office is the Government department responsible for ensuring we live in a safe, just and tolerant society).
NEW VIRTUAL HUNT to get JJ1 alias Bruno
The story is complex Giordano Bruno and culture specific, Bruno Kreisky contextualized in modern Eurofolklore and paranoia entertainment ala Jurasic Park so here we start:, some days ago a 100 kg heavy Bruno crossed the borders without permission.
Coming from Italy to Austria. Roomed around in peace and proceeded with his journey north, unknowing where he will run into, Germany. First time since 170 years a Bruno surfaced in Bavaria.
In Germany he rampaged in some farms and their chicken stalls, made on the way out, some kebab out of some cheeps and disappeared back to the forest.
Since that day Germans went back to war and the justification for killing Bruno hit the news like a nuclear explosion BILD 230506 , BILD 220506 , BILD 220506 , Kleine Zeitung , ORF , FAZ , BILD 270506 , fear spreds around the Homo sapiens breading ground. Bruno needs to be killed immediately says Minister Schnappauf ; this is danger for all humans. Kill, kill went the order to the patented 150 government hunters.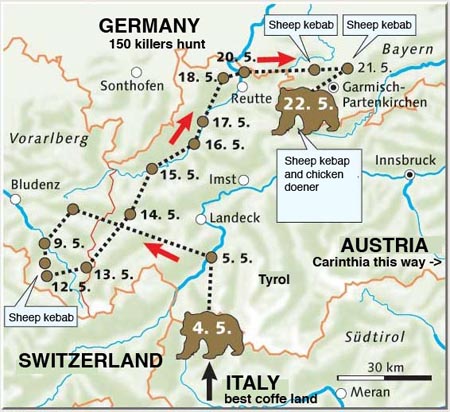 So they went on hunt, but the German woriers could not find Bruno , for days he disappeared. Than he surfaced by instinkt, again back in Austria. But here now the discussion inspired by the Germans kicked off, (his 1st visit was no big deal), in his 2nd, local parliaments started to deal with. Currently 30 Bruno live in Austria with proper visa and work permit. But there survival is not secured, the result of a gene monitoring showed that Austrian Brunos are to identical in there gene structure, their live leads to an early dead end, if not an intruder refreshes up the gene pool. How Bulgaria manages the co existence? They have one of the largest Bruno populations in Europe an estimate of 800 individuals. In 1993 they hade to stop the practice of domesticated dancing Bruno's, this was officially banned and the confiscated Bruno's have been re housed in open sanctuaries, with support of Brigitte Bardot. Fondation Brigitte Bardot
From one county a shooting order was issued, from another nothing at all, Carinthia Chief Executive officer Joerg Haider owner of 1100 acres called the bear valley near Slovenia, spoke out: We will give Bruno asylum without killing him. Last news is that he will be granted asylum in some Wild Life park.
The story sailed to Russia where Bruno's are more integral part of society, Komsomolskaya Pravda , contextualized the democratic freedom and the shoot to kill warrant with the current meeting of EU grand's in Sochi with Mr. Putin. Suggesting that Bruno should travel to Russia to live in freedom and liberty.
Next person involved popped up, the Director of the , Viennese Zoo , Mr. Pechlauer, said in all his paranoia to get bad publicity and to loose visitors because of the dangerous image this Bruno is causing, shoot him, shoot him, yes this is the only way. I wonder what all they would do if some sweet Pandas go on rampage; they would lay airconditioned traps softened in freshest bamboo.
Austria on one hand has a sad history with Bruno's here, 1994 Nurmi was killed without mercy. The WWF , is moving around with mobile tube traps. Some English insurance is offering 1.5 Milion Euro to cover damages Bruno is causing.
Back to Bruno, since several days Bruno is in the bushes hiding, by the way Brun is the surname of the Nordic god Odin ), so status is, humans search for Bruno to eliminate him, Bruno looks for space to have freedom from humans. This far our highly civilized culture came down, that we need to eliminate creatures living in nature, so that humans can proceed easily on there mountain bikes or in there SUV's to there favourite shopping centres.
I have no sympathy for the hunters, by the way they also oppose the act but follow the order as proper bureaucrats, so this is where our politically correct health and safety movement came down under, politicians are scared because they can be sued for compensation against danger from nature. How insane this has become in context of an estimated 1.2 million people killed worldwide each year by car accidents (there is still some space Anti War for dead in Irak Mr. Bush, compared to the dead toll on the highways).

Update: German hunters shot bruno today at 4.50am, here in german the statement from the WWF:
Der Bärenexperte Jörg Rauer hat deshalb bereits vor vier Wochen die Entnahme des Bären aus der freien Wildbahn empfohlen. "Wir haben alles versucht, dass JJ1 doch noch lebend gefangen wird. Leider sind diese Bemühungen heute durch den Abschuss des Bären zunichte gemacht worden", reagierten WWF-Sprecherin Susanne Grof und das gesamte Bärenteam des WWF heute tief betroffen. "Wenn man versucht, das Tier lebend zu fangen, ist man natürlich auch persönlich sehr enttäuscht. BILD260606
After a genetical examination, the remainings will be stuffed/taxidermy transfered to a Munich Museum expo called "humans and nature" at the Nymphenburg, there is also the last Bruno which was shot 170 years ago on display.