The Pixel Still Aches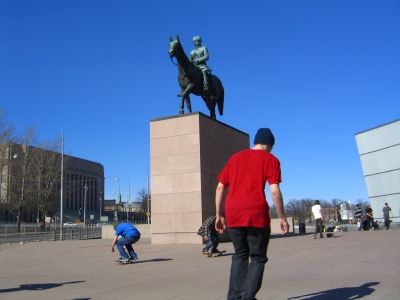 Photo: Skaters in front of Kiasma museum
The festival Pixelache in Helsinki was initiated by Juha Huuskonen 6 years ago. Bringing together a relatively young crowd, it has become a fixture on the festival circuit. This year's festival was about 'Architectures of Participation' thematizing the tension between media art, open source and what is known as Web 2.0. Ravensbourne Postgraduate Studies lecturers Lisa Haskel and Armin Medosch presented Open Source learning techniques at Pixelache.
"As long as there is a drive", Juha tells me, "there will be another Pixelache." The easy going yet hard working festival organiser masters the skill of bringing together different worlds. After the festival had been running under the banner of 'Dot-Org-Boom' for the past two years, it took a similar agenda further under the title Architectures For Participation. What he meant exactly with that you can read up in his introductory text to the festival publication which is available online - or listen to the interview with Juha. On one hand Pixelache is firmly in the camp of media art, open source, DIY, activism, you name it, on the other hand it also gives Web 2.0 social entrepreneurs a platform. But the discourse, Juha admits, has only started, thematizing the tension between free creativity and sharing in open participatory environments and hard nosed money making ambitions. Pixelache does not really follow a formula but it seems something is working here. The event has been branching out by having versions happening in Paris and another one in Columbia. For next year, Juha confesses, he already knows what will be on the table - but I wont tell ;-).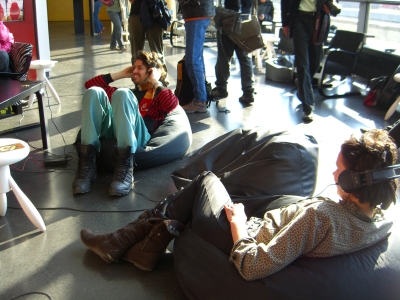 Photo: Listeners at the Le Placard Lounge
The festival consisted of a number of modules, some of which were programmed independently. The main 'architectures for participation' seminar saw Lisa Haskel and me presenting approaches to Open Source learning. Lisa talked about the methods and resources we had implemented at Ravensbourne, while I plaid some interview excerpts from my Open Source Culture research in a sort of live radio show. The Nordic VJ meeting had visual artists battling it out with simultaneous live mixes at the Kiasma theatre, where on the following day the the media art award Prix Moebius was staged. There was also a local Dorkbot event, and, not to be forgot, a number of clubnights headlined by Hexstatic formerly known as Coldcut. So there was plenty to see, hear and talk about.
Among the artistic highlights was the screening of media artist and filmmaker Manu Luksch's science fiction film Faceless, a piece made entirely of CCTV recordings obtained via the data protection act from CCTV operators. The work had only recently been premiered at Diagonale Austrian film festival, where it had polarized audiences. Abstract visualist Lia performed a stunning live set together with long standing collaborators, Portuguese sound artists @c, in a packed Kiasma theatre. Mr Generator X Marius Watz presented his work and philosophy at the VJ seminar, although at an untimely early hour so that I missed that but could catch up later with Marius in the cafe. The work of those artists, although all very distinct and different, was in a class of its own compared to most of the VJ stuff which, despite my best efforts to like it, seemed a bit repetitive and dull.
As an old audio freak I personally also liked the Placard lounge where sound artists played to an audience over headphones in 20 minute slots. Next to there I made friends with Jodi Rose, Australian sound artist who did her very own Transit Lounge Radio. She also is on a mission to conclude her 5 year project on the sound of bridges (You can listen to Jodi Rose Uncut).
And then there were Hexstatic who rocked the packed audience in a Helsinki club, showing that 1980ies cut-up aesthetics, hip hop and scratch video still kick ass also for a younger audience who had never heard of it before. Maybe not exactly art but good old underground pop culture with a message.
Audio Interviews:
Interview with Juha Huuskonen
Marius Watz in the cafe
Jodi Rose about her work