The active-matrix liquid-crystal revolution
My 2nd favourite this year of Siggraph 07 is Adi Abileah, a senior inventor. He shows us where technology will lead us in some years. The merging of camera and projector a very significant step ..., in the picture you can see someone touching the color LCD and left from this the B&W image on the laptop. read his text: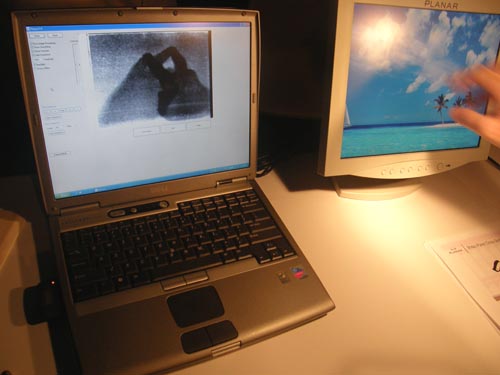 This new approach to data input into active-matrix liquid-crystal display (AMLCD) panels integrates an array of thin-film transistor (TFT) optical sensors into the a-Si backplane of the AMLCD. Features include touch-panel input, hand recognition, and image capture.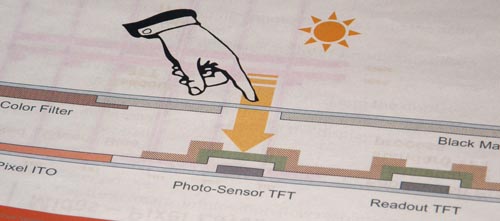 Enhanced Life
In the age of information, display systems are critical components. This sensor array embedded into AMLCDs allows flexible touch capability, with multiple fingers and gestures. It will become the dominant tool for interaction with a broad range of systems, from mobile devices to desktop monitors. The imaging capability and hard-copy capture open many options, and could allow the AMLCD "look" to be displayed in documents and hand gestures. The system also includes a hand-recognition algorithm using the same sensor array, which could enable the display to check or confirm identity.
Goal
To demonstrate the technical viability of hand recognition and image capture in an optical-touch display.
Innovations
This is the first sensor-array device built with TFT optical sensors in the AMLCD panels. It proves the viability of using existing TFTs as the sensors. In addition to the TFT circuit design, which was the first of its kind, the system supports the use of a light pen and a laser pointer, and it includes full imaging capability.
Vision
This system demonstrates improved interaction with LCDs in several modes: finger touch, light pen, hand recognition, gesture inputs, and gesture storage. It is far more than a regular touch-interaction device.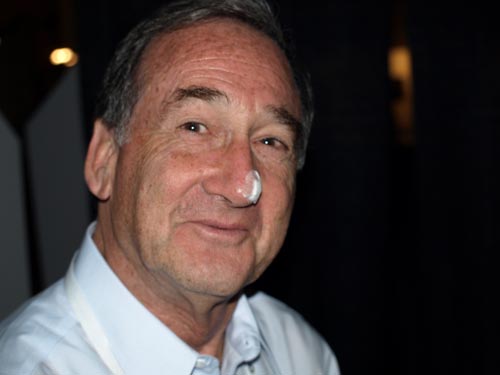 Contact: Adi Abileah, Planar Systems Inc.; adi.abileah (at) planar.com